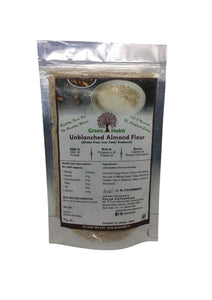 Our Almond Powder is a Healthy Low-Carb Substitute for Flours . Almonds can also be used to make a wholesome and delicious flour that can be substituted for white flour in almost any recipe, especially for paleo and keto-friendly baking.

Almond Flour (Badam ka Atta) is 100% pure, unblanched, gluten-free, and low in carbs, making it a healthy, and tasty alternative to bleached white flour.

Green Habit's Almond Flour can be Used for Making Macaroons, Baking, Keto Roti's,

Green Habit offer's Healthy gluten-free, Vegan& Keto-Friendly alternative flours for all your baking and cooking needs. We never use any additives or preservatives in our products, so you know you are getting what nature has to offer. From our family to yours!